End of year lists are often laborious and predictable. By their very nature they can be bland countdowns to the inevitable. No matter how varied their tastes, if you put a bunch of music fans into a room and ask them to come up with a top fifty, what you'll get is a brawl. Fantastic albums that few have heard of will lose out to mainstream efforts that most have tolerated. An Albums of Year feature that doesn't include Beyonce, Lady Gaga or Bjork is just about as credible as a list that cites some completely unknown up-and-coming at Numero Uno. It's a simple equation. More people have heard of them - more people will vote for them.
For that reason I have to admit I launched into this poll with all the enthusiasm of a school kid in September, dutifully labelling her new textbooks. Votes began to come through; a lot of them for albums I favour, some for albums I had completely forgotten about, and others for releases that are not to my personal taste at all. Distressingly, I saw my top ten dwindle and get shoved to the back of the pile. DrunkenWerewolf's Albums of the Year list began to look like a massacre of all things good and holy. I even considered fixing the results, but the democrat in me wouldn't allow it.
I should have put more faith in the team, because as it turns out we're an alright bunch. I think we've also managed to come up with an alternative list that rightfully honours major releases that didn't make it into the zine. In a roundabout way, what I'm saying is this: the list below reflects a group opinion. Fluff it up with talk of democracy and fairness, whatever - it's a compromise. But in the same breath, it does something the zine deliberately avoids: it proves that actually, some of those pop stars deserve the attention they get. You can be signed to Universal and still make a decent album. And if *you* don't like that idea, you're doing yourself a disservice. Compromise or not, the list below is fair.
Below I've listed albums 50 through to 25. You'll have to wait all of a weekend, full of chocolate and cider (hopefully not together), before you can read our top 25.
50// Fucked Up – David Comes to Life
49// Shabazz Palaces - Black Up
48// Washed Out – Within and Without
47// Kitty, Daisy and Lewis - Smoking in Heaven
46// Claudia Brucken - Combined
45// Manchester Orchestra - Simple Math
44// dEUS - Keep You Close
43// WATERS - Out in the Light
"Out in the Light starts out far brasher and more aggressive than Port fans may expect; WATERS are rockier, heavier and altogether more jagged. Album opener "For the One" has a distinct Pixies kick to it before galloping into a thrashier chorus, and "O Holy Break of Day" has a flavour of Weezer circa 2001 in the vocals, with tumbling guitars and crashing percussion, almost verging onto noise territory at the track's crux." – Alice Slater
42// Peaking Lights - 936
41// Panda Bear – Tomboy
40// Lykke Li - Wounded Rhymes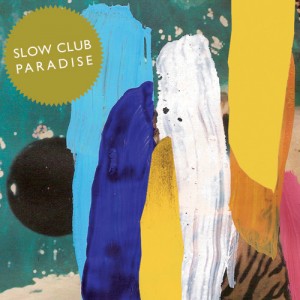 39// Slow Club – Paradise
"Lead single "Two Cousins" is potentially about incest and losing your memory, a disjointed piano has been thrown into the lot alongside looped and inaudible backing vocals. The rata-tat-tat of Rebecca's percussion is mysteriously lo-fi, like a tin can tirelessly recorded in the hope of replicating a mistake. Paradise is a phenomenal effort, but there's no doubt the musical precision has been conceived to dupe the listener into thinking it was a sporadic idea. The melody is the song and album's saving grace; a persistent lilt that will have your limbs jerk in directions that I can't reasonably describe on paper." – Tiffany Daniels
38// Anton Barbeau - Empire of Potential
"The album really comes alive when giving way to the vibrating transcendentalisms of "The Un-Mothered Stone" and the Glam-Psychedelic stomp of "Fuzzchild" with its insane vocal percussion and guitars to knock socks feet and legs off.  This is surely one of Ant's best tracks to date and truly captures the Apple Sun vibe.  Frankly, I love this endlessly creative and beautifully tailored album.  I also know that I'm going to love it more and more and more and more. " – Elton Townend Jones
37// Cass McCombs - Wit's End
36// Lady Gaga - Born This Way
35// Camille - Ilo Veyou
34// Bjork - Bibliphilia
33// Main Attraktionz – Blackberry Ku$h
32// Beyonce - 4
31// Los Campesinos! - Hello Sadness
30// Moon Duo - Mazes
29// The Antlers - Bust Apart
28// Rob St John – Weald
"Despite its often bleak subject matter and sprawling composition, Weald is a strangely compelling and absolutely engrossing listen from a promising new talent. Rob St. John is surely a name we'll hear more frequently in 2012 and thereafter."
27// Seahawks - VQ1: Spaceships Over Topanga Canyo
26// Elbow – Build a Rocket Boys
25// St Vincent – Strange Mercy